DRY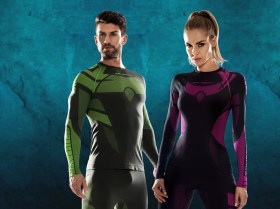 DRY clothing collection has been made in seamless technology from two-layered, breathable  knitted fabric of medium thickness. Internal layer drains the moisture to the outside, ensuring comfort even during intense effort. External layer performs thermal-insulating function, protects against cold air passing through to the inside and against natural loss of heat.
In the areas of increased sweating, a net structure and ventilation ducts aiding the transport of moisture have been used. The clothing has anti-allergic and bacteriostatic properties. DRY collection is designed for all-year-round use. It's  especially recommended for running, riding a bike and other outdoor activities in an interim period.
All Brubeck DRY products are ideal solution as next to skin layer for any outdoor activity level all year round. These highly innovative products were fully made in EU at the highest quality standards.